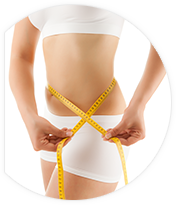 To properly choose the size of your lingerie, it is essential to take your measurements carefully beforehand. A few rules should be recalled in this context: you should take your measurements only dressed in your underwear, with the tape measure held fully horizontally, and close to the body, without being too tight. To get sufficiently accurate results, it is best to get someone to help you. The measurements are given in centimetres.
Depending upon the underwear you are interested in, various sorts of measurements can be taken.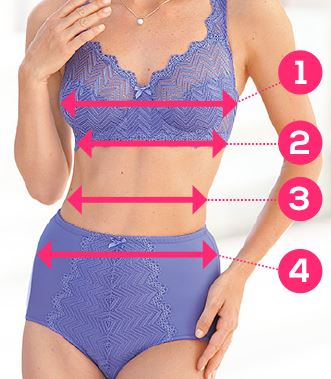 Bust :measure around the fullest part of your bust.
Under the bust : when buying lingerie, measure directly under the bust horizontally.
Waist : measure around the smallest part of your waist
Hips : measure the fullest part of your bottom at the top of your leg.
The tables below will help you get your bearings and choose wisely the lingerie that best suits you. If you are hesitating between 2 sizes, take the bigger of the two.
Guide size vests and nightdresses
Guide size stockings and tights
USEFUL ADVICE
The right underwear, especially a well-fitting bra, will guarantee comfort and wellbeing all day long. To buy suitable lingerie online, you must measure under your bust. This measurement can be found in centimetres or inches on the table above and will help you choose the size that will suit you best.
Well-chosen, comfortable lingerie is essential! A bra that is too big will not provide support or a flattering shape. When too small, it will soon become uncomfortable and may even cause pain due to over-tight straps or back fastening. Whatever the reason, an ill-fitting bra loses all its aesthetic advantages leading to a saggy bust or overflowing cups, or simply draws attention that should be paid to the rest of the silhouette. A few handy hints can help you overcome these problems and improve the comfort your bra can offer – use additional hooks to adjust the back width, choose wide straps for added wellbeing and don't forget to adjust them correctly.