How to choose
your trousers
A high waist will flatter all body shapes, smoothing over the buttocks and making your legs look longer. It is perfect for women seeking comfort and elegance!
This special guide was designed to answer all those questions you might have about trousers, to help you find the style that will best suit your body shape and in which you will feel fabulous.
All trousers

>
New collection
New styles for Autumn-Winter 2021/2022: Feel fashionable in an elegant collection that is comfortable too!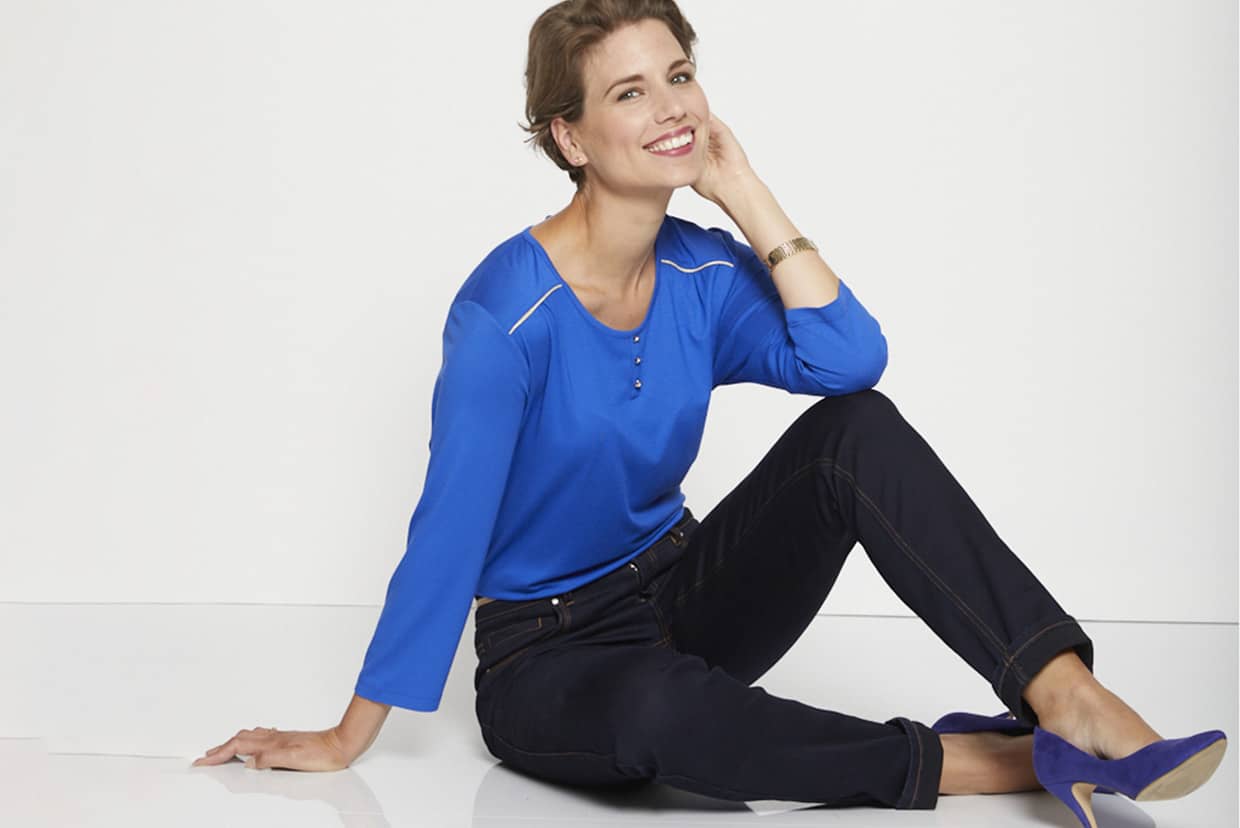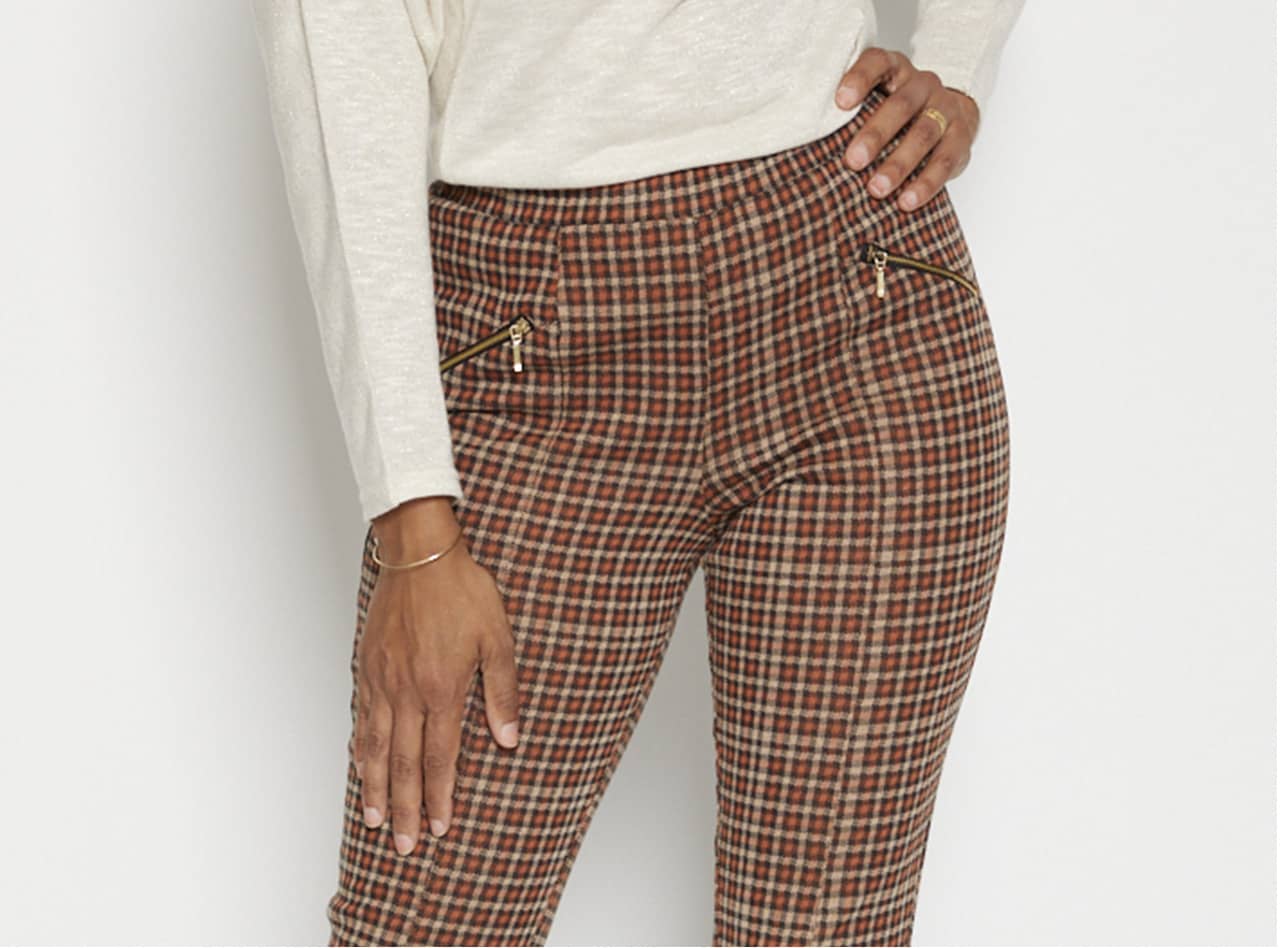 Embellished trousers
Trousers can be embellished too!
Pretty patterns, embroidery, sequins… a wide range of irresistibly on-trend features to add sparkle to your wardrobe. Trousers you can use all day, every day.
Absolute confort
Elasticated waist
Advantages
Providing perfect comfort and smart style, these trousers are easy to wear and will suit all body shapes.
Partially elasticated waist
Advantages
The partially elasticated, stretch waistband ensures discreet comfort and elegance while providing you with a slimmer silhouette.
Waistband without elastic
Advantages
A trendy, modern style in easy-to-wear stretch fabrics for guaranteed comfort. A must for fashion fiends!
Choose the right pair of trousers
Straight leg
In addition to being comfortable, a straight cut will lengthen your legs and smooth over your hips. Give in to temptation with this cut that will flatter your figure!
5-Pocket trousers
A casual style for active wear that ticks all the boxes! Although close-fitting, 5-pocket trousers are extremely comfortable! Not to mention the fact that they will shape your buttocks!
Soft-touch trousers
With their soft-touch, velvet-look fabric they are as lovely to look at as they are to wear! An elegant style for fashionable wear!
Culottes
Plain or printed, long or short, culottes add a touch of elegance to our outfits. Their flowing lines. ideal for summer, lengthen the figure and offer the maximum in femininity and comfort
Choose the right fabric for your trousers
Natural materials
Advantages
These cool fabrics are so comfortable and are fabulous to wear. They are ideal for modern outfits, that exude understated elegance.
Synthetic/Viscose
Advantages
These materials are easy-care and require only a light iron. Their lasting smartness make them the perfect choice for stylish modern outfits.
Find the right style of trousers
Stretch trousers
When you choose stretch trousers, you opt for both comfort and style. Their fabric keeps its shape, beautifully embraces your curves, and drapes prettily for a look which is always impeccable.
Casual Trousers
Trousers in a comfortable fabric you will love, that exudes fashion-forward relaxation. Ideal for your everyday wardrobe! The soft fabric will follow your every move and is perfect for active wear.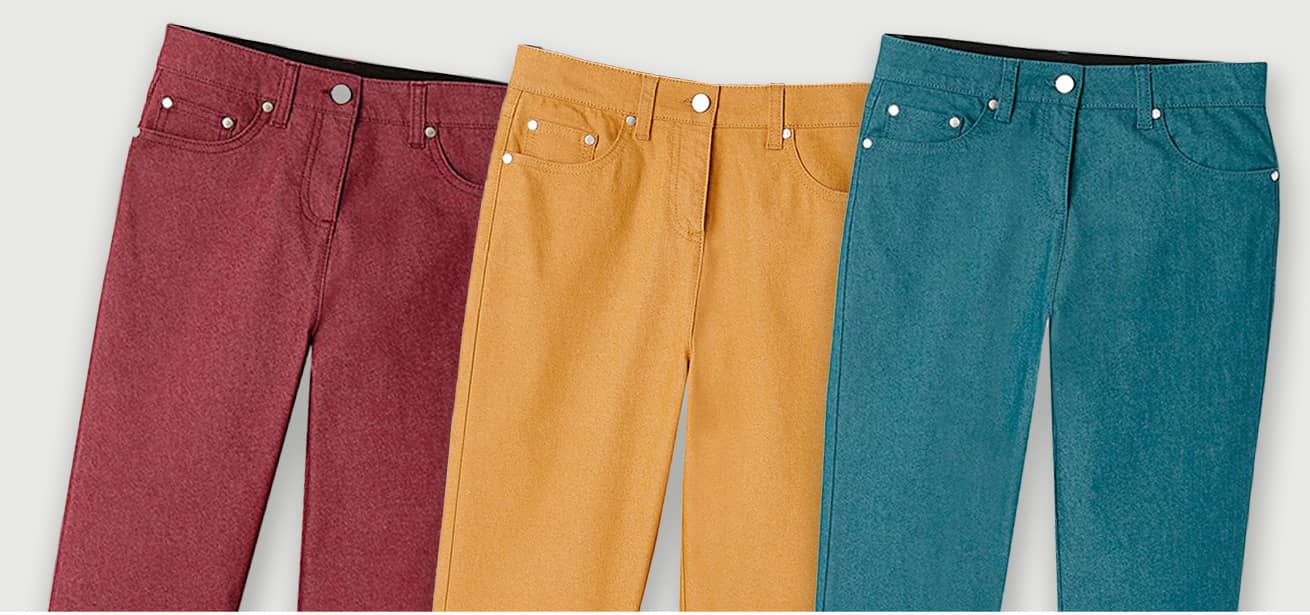 Colours
From timeless basics to trendy tones, we offer a wide range of colours easy to mix and match with any style or pattern. Our trousers collection is designed to match your needs throughout the seasons!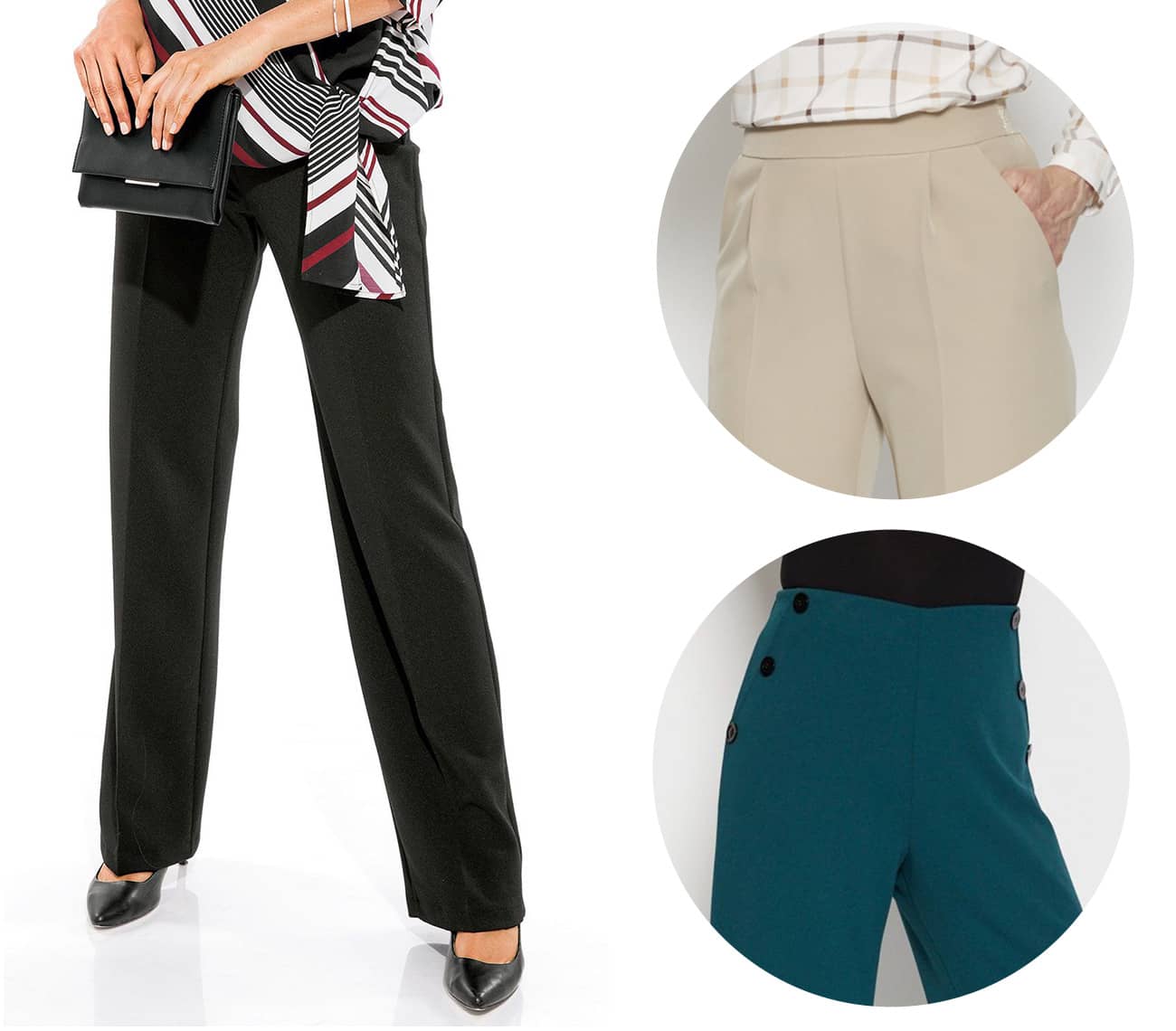 Flowing trousers
Advantages
Flowing trousers in a soft, lightweight fabric guarantee an impeccable hang! Whether you prefer the chic or casual version, both are staples for any occasion!
Jeans and denim trousers
Advantages
Timeless, always on-trend and a must in any wardrobe! Symbols of understated casual fashion but perfect for mixing and matching with elegant separates for a very stylish outfit! Also available with embellished details, embroidery and sparkle, and in a range of different colours.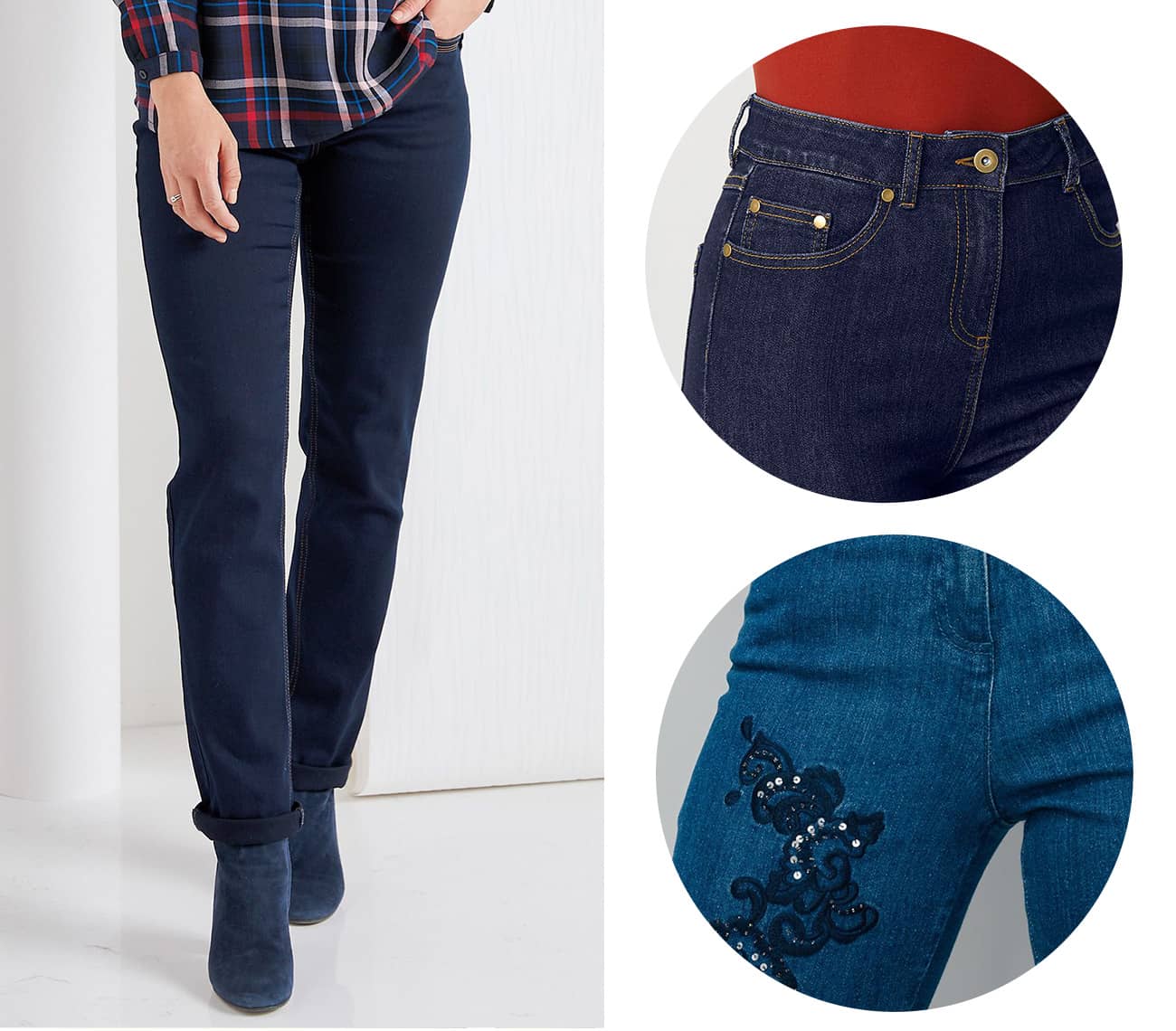 What size should I choose?
Are you sure you know your trouser size?
To ensure you feel 100% comfortable in your trousers it is important to know the size that will suit you best.
Find a tape measure and follow our guide to find the perfect fit!