Because we are all different,
here is some advice on how to choose the garments that show off your figure to its best advantage and make you feel ever more beautiful.
Our stylists have identified 5 main categories of figures and here is their advice on how to show them off to their best advantage.
A figure of 8 figure or a figure in the shape of an hourglass, triangle, pyramid, rectangle or oval.
A figure in the shape of a figure 8
(if you have rounder curves)

, or an hourglass :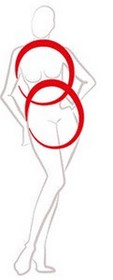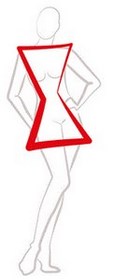 Your shoulders are virtually as wide as your hips and your waist is fairly well marked. You have right from the outset a very feminine shape, so take advantage of it by emphasising your assets.
Avoid wearing garments that are too loose. Pretty wrap over tops with plunging necklines, belts, and rather tight blouses are for you. For the bottom, don't hesitate to wear flared or draped skirts that will hide your hips a little if need be. As regards trousers, hipsters are definitely out, as they could give the impression of hips a bit on the heavy side. As for dresses, those with a belt, cut under the knee will be perfect to show off your lovely shape.
The pyramid figure :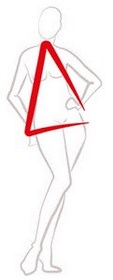 Your shoulders are fairly straight and your body widens towards the bottom. Your bust is quite fine and your hips are bigger. Your assets are femininity and sensuality.
For the top, give preference to graphic printed fabrics with coloured motifs on tops a little long or tunics. Choose boat necks, draped or pleated, the tops being embellished with embroidery, pearls or strass. The objective is to direct the gaze upwards in order to rebalance your figure. A straight skirt or trousers that are straight or flared at the bottom, preferably in a fluid material, will accompany your movements with elegance. Avoid pleated skirts, printed bottoms, cuts with too much pleat details, embroidery or frills as they will accentuate your shape.
The triangular figure :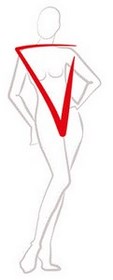 Your shoulders are wide, your bust is buxom and your pelvis is relatively narrow.

Contrary to the pyramid morphology, choose garments that enhance the value of your hips and legs. For the top you can choose fluid materials, simple cuts and dark colours. Round, square or asymmetrical necks are for you. Avoid shoulder pads or jackets that are too structured, straps that are too fine. For the bottom, opt for trousers with a slightly low waist, fairly flowing skirts with pleats or frills. Sorry, but straight trousers or leggings are to be avoided in your case. Choose original finishes, side slits or bright colours. The aim is to give maximum emphasis to the hips and enhance the waist.
The rectangular figure :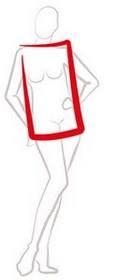 Your shoulders and your pelvis are the same width and your waist is little marked. The challenge consists in giving the illusion of a finer waist in order to rebalance your figure.
Superimposing chiffons, enhancing your bust with a round neck, a wrap over top or an elaborate plunging neckline, wearing a wide belt a little on the loose side can give greater femininity to your style. A-line skirts or skirts flared at the bottom, cut at the knee, fashioned on the bias and capri pants are also recommended for you. To sum up, give preference to anything that can bringer greater feminine roundness to your figure.
The oval figure :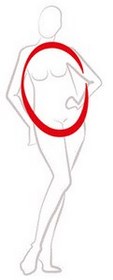 Your waist is little marked; your shoulders and your hips are fairly fine: your figure is harmoniously rounded.
Wear fluid and flexible fabrics, tunics, long shirts... wider at the top than at the bottom. Play on vertical lines, puff armholes or shoulder pad jackets to rebalance your figure. Avoid shiny or satin fabrics that are going to pick up the light and give an impression of volume. As regards striped and printed fabrics, avoid horizontal stripes that accentuate the impression of width; printed fabrics could enhance your figure if they are proportioned to your type of body. For the bottom, leggings that lengthen your figure, flared trousers and high-waisted skirts will be the assets of your wardrobe and even if dark colours are slimming, there's absolutely no point in hiding away in a mass of black, as a little colour can make your figure more radiant and brighten up your personality.
There you are. A little look into a pretty mirror to find out your type of morphology and above all, don't panic! There's no ideal body apart from those, considerably retouched, in the advertising world. The main thing is to find the best way of showing yourself off to the best advantage by « masking » to some extent what you like less and highlighting your assets, for, believe me, we all have them.